Horses and riding school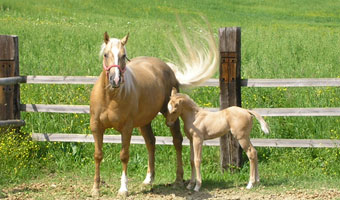 The principal recreational activity is that one of the horse-riding. We have a small equestrian centre with 13 boxes, a 20x45 arena, a round pen and several paddocks. In this way our horses can stay in the open air. We offer western riding basic lessons, and reining approaches lessons. For the more experts, we suggest 1 hour or longer walks along the Valmarecchia paths. Furthermore, we train foals helping also adult horses that have some bad habits or tame problem.

In the Farm there is a small breeding of the Quarter Horse race. These horses come from USA; their characteristics are docility and a very pronounced musculature; they have also a very good attitude for work.